Breathe Easier with Duct Cleaning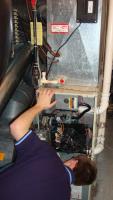 Dirt, mold, bugs, mites, and other "stuff" are all living in your duct system. We can get rid of it all with our Total Source Removal cleaning process. You will be able to see for yourself all of the dirt and debris that we remove from your duct system. More importantly, through the use of remote video inspection cameras, you will also be able to see how clean your duct system is when we finish cleaning.
Some of the products we install go directly into your duct system to help keep your ducts clean and the air in your home free of any debris or harmful particles.
Here's just some of the products that we can install in your house to improve the quality of your air.
UV BIO WALL QUATTRO
'
Treats Entrie duct at one time
Destroys up to 99.9% of biological contaminants at one time
Destroys chemicals and biological odors
LED 'Smart System' Status Visual Display
R17000GX IN-DUCT UV
'
Eradicates bacteria, Viruses, And Mold
Larger High-Intensity UVC/UVV Quartz Lamp
Hardwired directly to HVAC System
LED 'Smart System' Status Visual Display
R4000GX IN-DUCT UV
'
Eradicates bacteria, viruses, and mold
New high efficiency patented design
Larger UV Lamp for more purifying area coverage
3 Year warranty on parts including UV Lamp
Purify up to 4,000 square feet
Call McDonald Heating, Air Conditioning and Plumbing Inc., anytime to have a licensed technician install any of these products (508) 832-5444
Learn more about the benefits of a Duct Cleaning from McDonald Heating, A/C & Plumbing Inc.

Have questions? Submit a request through our online request form or give us a call at (508) 832-5444 and our specialist will help guide you through the different Duct Cleaning options.